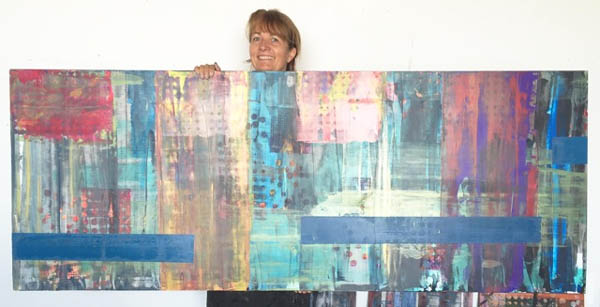 I am interested in the processes involved in printmaking, the subtle blending of color, the complexity of multi-layered textures and the simple joy of pulling ink through a screen and the leaving open of space making room for the imagination.
I spent my childhood in National Parks, places like the Blue Ridge Mountains, the Grand Canyon and Mesa Verde. My personal background has strongly influenced my interest in nature as a basis for my art, which is at the root of my being. I love exploring the complex beauty of the natural world in all its abstract qualities. For me, abstraction goes far beyond what I see in front of me; it is a way for me to study the mystery of life. I am certainly a passionate product of the Abstract Expressionists. I find myself in the process of constantly recreating myself amidst change. This is true for art making, mothering, partnering and teaching. In my work, I can express myself in ways that help me feel connected and deepen my relationship to the world and everyone around me.
Sandra received her MFA in Drawing and Painting from Colorado State and her BFA in Drawing and Painting from the University of Georgia. Sandra is currently organizing and curating a printmaking exhibit at SCAPE Gallery in Corona del Mar. She and her family have recently moved from Laguna Beach where she taught Serigraphy at Orange Coast College for five Years. She previously lived in Monterey where she taught Figure Drawing and Creative Digital Media at Monterey Peninsula College. She now lives with her husband Greg, their teen-age daughter Madeline and dogs, Jolie and Rafael in beautiful Tiburon, California. Sandra exhibits her work locally, nationally and internationally.