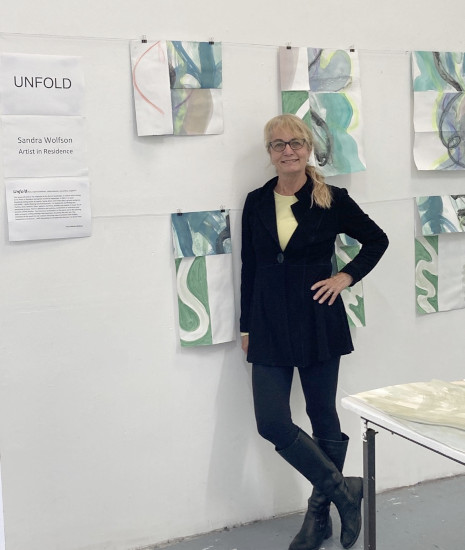 Sandra Wolfson at the Opening of her Exhibit titled 'Unfold'
at the Burren College of Art on the West Coast of Ireland.
She completed a prestigious Artist In Residency in September 2022.
PROFESSIONAL EXPERIENCE
College of Marin Community College (COM), Kentfiled, CA 94904 2020 - current
Continuing Education Arts Instructor

San Francisco Museum of Modern Art (SFMOMA), San Francisco, CA 2016-2020
Private Guide

Orange Coast College (OCC), Costa Mesa, CA 2010-2015
Adjunct Fine Arts Instructor

Strathmore Fine Arts Paper 2011-2015
Speaker/Artist Representative

Monterey Peninsula College (MPC), Monterey, CA 2005-2010
Adjunct Fine Arts Instructor
EDUCATION
MFA Painting, Colorado State University, Fort Collin, CO
BFA Drawing and Painting, University of Georgia, Athens, GA
CURRENT & PREVIOUS GALLERY REPRESENTATION
KALA Gallery, Berkeley, CA
SCAPE, Corona Del Mar, CA
18th Street Gallery, Santa Monica, CA Joan Roeby Gallery, Denver, CO
Art Resources/C.G. Rein Gallery, Denver, CO Abstein Gallery, Atlanta, GA
AWARDS & ORGANIZATION AFFILIATION
Currently a Kala Artist In Resident Recipient
Los Angeles Printmaking Society
National Endowment of the Arts Recipient, Los Angeles, CA
Northwest Examiner Community Visual Arts Award, Portland, OR
Teaching Assistantship (TA), Colorado State University
Ford Foundation Scholarship University of Georgia
SELECTED ACCOMPLISHMENTS
2022 One of Six Artists In Resident at The Burren College of Art, Co. Clare, Ireland

2016 – 2022 Currently a Part-time Artist In Residence at KALA, Oakland, CA
http://www.kala.org/artpress_artist/sandra-wolfson-2/

Received 2012 Professional Development Grant from Orange Coast College to Study with Don Messec at MakingArtSafely, Santa Fe, NM

Selected artist member of City of Mountain View public art committee tasked with selecting, purchasing and making decisions about public art for the city.

Selected as one of two art educators for an NEA funded program called "Art in Our City" based out of Barnsdall Park, Los Angeles.

Recruited LA artists such as Frank Gehry, Wendy Clark, David Wild, Betye Sarr and Frank Romero to participate in citywide educational programs. These endowed programs generated enormous community interest.

Oversaw program and acted as point person for children's art exchanges with the Lennigrad Avant Guard School of Art, Russia; Japanese Museum of Art, Yokohama, Japan; and The City of Bordeaux, France Mural Project.
SELECTED EXHIBITIONS
O'Hanlon Art Center, Annual Members Exhibit, Mill Valley – 2021, 2022
KALA Gallery, Annual Members Exhibit, Berkeley – 2016, 2017, 2018, 2019, 2020, 2021, 2022
SFMOMA Staff Exhibit, San Francisco, CA – 2018
SCAPE Gallery, Printmaking Exhibit Curator, Corona Del Mar – 2013/14/15/16
Azusa College Gallery, The Hand Pulled Print, Los Angeles Print Society - 2015
City Hall Juried Art Exhibition, juried by Jonathan Burke President of LCAD, Laguna Beach, CA – 2014
Coastline Art Gallery, District Faculty Exhibition, Costa Mesa, CA – 2014
Orange Coast College, Faculty Exhibit, Costa Mesa, CA – 2012
Coastline Community College, Faculty Exhibit, Costa Mesa, CA – 2011
Monterey Peninsula College Gallery, Faculty Exhibit, Monterey, CA - 2010
Felix Kulpa Gallery, Sustenance, MPC Fine Art Print Club, Santa Cruz, CA – 2010
Felix Kulpa Gallery, Printmaking Exposed, MPC Fine Art Print Club, Santa Cruz, CA – 2009
Pacific Grove Art Center, Pressing On, MPC Fine Art Print Club Show, Pacific Grove, CA - 2009
Unitarian Universalist Church, Solo Show, Questioning Existence, Monterey, CA – 2005
Frank Romero Studio Exhibition, Barnsdall Benefit, LA – 1999
Majlum & Nordfors, Smith, Gordon Architecture, Time in a Landscape, Solo Show, Portland, OR – 1997
OMNI Gallery, Group Show, Portland, OR – 1996
Monterey Museum of Art, Miniatures, Monterey, CA – 1995, 2004, 2008
Loyola Law School, Site, The Verdict, - curated by Suzanne Munchnic, LA Times Writer, LA, CA – 1993
Randall Scott Gallery, auction, Santa Monica, CA – 1992
Long Beach Arts Open Juried Exhibit, group show – curated by Will Hipps, Long Beach, CA – 1992
Angels Gate Cultural Center, group exhibition – curated by Peter Frank, San Pedro, CA – 1991
Echo Park Gallery, Four Women, Echo Park, CA – 1991
Le Café Restaurant, Solo show, Sherman Oaks, CA – 1990
Municipal Art Gallery, Group Exhibit, Barnsdall Park, LA, CA – 1989
The Barnsdall Jr. Arts Center, Faculty and Staff, LA, CA – 1988
Power Plant Visual Arts Center, High Time, Fort Collins, CO – 1985
Shelley Tadman Gallery, Winnipeg, Manitoba, Canada – 1986-88
Lincoln Center, A Point of View, Invitation, Fort Collins, CO – 1985

Burren College of Art, Artist In Residence Exhibit
Newtown Castle, Ballyvaughan, Co. Clare, Ireland September 2022